Local Directories
Local Listing Management is the management of business information (name, address, phone number) across local business directories. This process of maintaining accurate and consistent contact information is fundamental in your local search engine optimization efforts.
Optimize Your Local Reputation to Increase Your Online and Physical Sales
Ten years ago, when a customer wanted to find a store, they usually went on a branded site in order to identify the nearest store. At the time, the possibility of sharing their geolocation to obtain a result more quickly was considered a new innovation. But times have changed, technology evolved, and so have consumer habits.
In a world where 50% of searches are carried out from geolocated smartphones, Google can display every related business in your area in the blink of an eye. With smaller screens, smartphones can only display a limited amount of information. A Google My Business page will take up the entire screen of your smartphone and simply show a few competing stores nearby. Having an active Google My Business page also makes your business eligible to be displayed in Google Maps; so, not having a well-managed Google My Business page can have a drastic impact on your sales.
Today's classic customer's journey passes less and less through the brand's website and more and more through third-party review sites like Yelp! or Yellow Pages, as well as on social media. Having accurate business data on these websites is a fundamental building block of your online marketing strategy. This shift is giving local stores and small businesses with smaller resources a great opportunity to compete with larger-named brand retailers. It is the best local marketing tool to increase your "web-to-store" sales.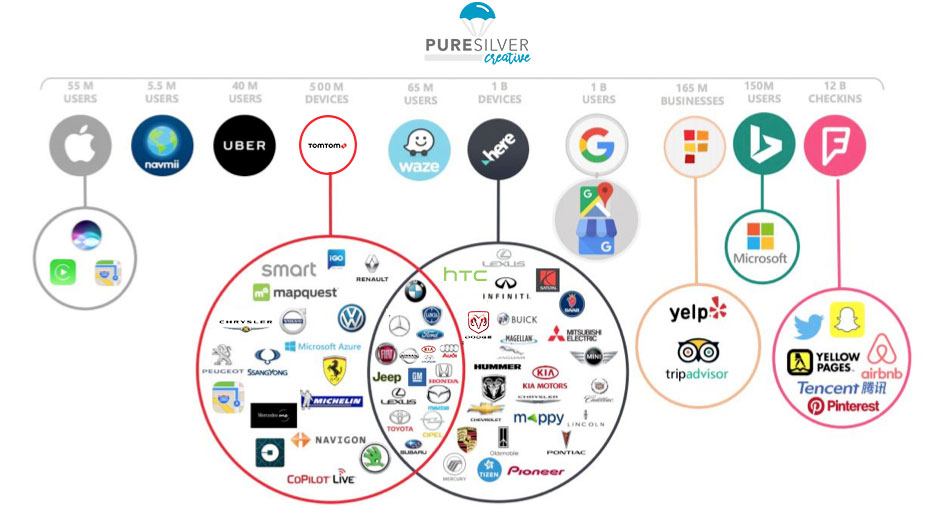 Highest Converting Searches
But it is the conversion rate that is the most remarkable in local search, especially on smartphones. Eighty-eight percent of requests coming from a phone turn into a visit or a call within 24 hours! On average, local directories convert 7 times more than classic branded websites.
---
The Importance of NAP
The acronym NAP stands for "name, address, and phone number." Most of the businesses in the U.S do not keep this data consistent across local directories. Having a consistent NAP is one of the central pieces of your marketing strategy.
NAP IncreasesYour Business Legitimacy
Creating customer listings in many online business directories will significantly increase your business's local online presence. The goal is to make your store or company visible and accessible to all customers no matter where they look for it online. This will also increase the perception internet users have of your business.
Having inconsistent data across various directories will greatly decrease the legitimacy of your business online. Imagine seeing business hours on a Facebook page and deciding to go visit the business; then, when you type the address on Google Maps, you realize that the hours are different. Even worse—you drive 20 minutes to a closed store because of inaccurate online information.
Nap Helps Your Search Engine Optimization Efforts
For the last few years, Google algorithms have been increasing the importance of local search and local listings. To determine organic rankings, Google's algorithms are looking at the number of local directories as well as their consistency with your Google My Business page. Having consistent business data is one of the most determinant ranking factors in local SEO. Meaning that even if you have old directories on websites that are not used anymore, you still need to update them. An old address or inconsistent opening hours can directly impact your local organic rankings.
Accuracy Counts
With more and more people using navigation software every day, it is critical that your primary business information is accurate.
Lost Confidence
When your primary business information is inaccurate, it is shown that over 50% of your potential customers will lose confidence in your business before they even find you.
Increased Locatability
For local businesses targeting a local audience, having professionally managed and consistent local listings is highly correlated to higher sales. It will allow consumers to find your business as well as increasing its legitimacy in their eyes.